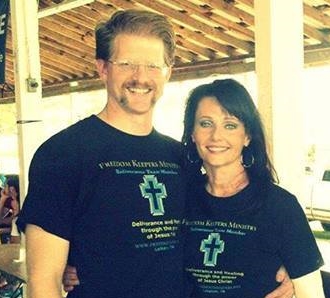 Freedom Keepers is a Christian ministry in the Nashville, TN area that began setting the captives free in 2001. We are dedicated to helping people be set free from the torment of the forces of darkness. The people we help are Christians who discover that they are spiritually bound from past pain or abuse. We minister healing and deliverance through the Word of God and prayer. We are bible believing Christians who have seen the miracle of deliverance for hundreds of men, women and children. Donna Varno founded this ministry after answering the call God placed on her life to enforce the command in Mark 16, "In my name shall they cast out devils." She has traveled all over the world teaching and ministering deliverance in Ireland, New Zealand, Mexico, Antigua and Haiti. To schedule an appointment for deliverance, please fill out the application for ministry. After your application is reviewed, you will be contacted to schedule your ministry appointment.  All contact with our ministry is absolutely confidential. We are also available to teach at church services, conferences and rallys, and to train pastoral staff members in how to minister freedom to your congregation.
Click Here to fill out an Application for Ministry
Ministry Phone Number: 615-358-8120
Here are some possible indicators that you could need inner healing and deliverance
Do you have thoughts or have voices in your mind that you can not control?
Has anyone in your family or yourself been involved with Freemasonry?
Have you ever harmed yourself through cutting or mutilation?
Do you have an addiction to pornography, drugs, or alcohol?
Do you hear voices inside your mind that are not your own?
Have you ever been involved with the occult on any level?
Are you tormented by memories of abuse from your past?
Do have thoughts of suicide?
If you answered yes to any of these questions, you need help in getting free from this torment!
Popular Links:
Freedom Keepers is a para-church organization that is supported solely on donations from those who have been blessed by our ministry. We do not charge for ministry, but appreciate all financial support to this ministry.
You can donate securely via PayPal using the link below
You may also mail checks to:
Freedom Keepers Ministry
102-Suite G Hartman Dr #120
Lebanon TN 37087
(mailing address only)